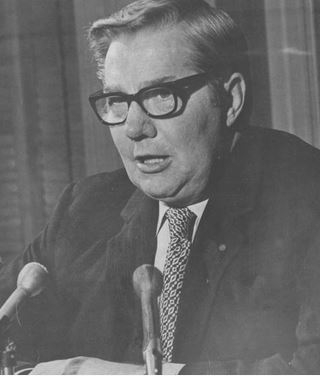 Donald Johnson of Post 514, West Branch Iowa Elected as National Commander.
Donald Johnson of West Branch is elected national commander of The American Legion in 1964. He later serves as administrator of the VA for five years under President Richard Nixon
Mr. Johnson, a onetime seed and fertilizer dealer was appointed administrator of the Veterans Administration in 1969.
Mr. Johnson, a World War II Army veteran who received a Bronze Star and a Purple Heart while serving as a Technical Sergeant in Gen. George Patton's 3rd Army in Europe, went on to serve as deputy assistant secretary at the Commerce Department, and he was chief of staff to Sen. Roger W. Jepsen (R-Iowa) from 1983 to 1985 and executive director of the National Credit Union Administration in Washington from 1985 until his retirement in 1993.
Mr. Johnson, a former Alexandria resident, had lived in Fredericksburg after his retirement. He was born in Cedar Rapids, Iowa, and reared in West Branch.
He attended Iowa State University before and after his military service. He became active in business and civic affairs in West Branch, eventually becoming president of DJ Feed and Supply Co. and holding elective posts with the American Legion.
He was past president and trustee of the Herbert Hoover Presidential Library Association and president of the 89th Infantry Division World War II Society.
 Donald E. Johnson was  75 and died of complications of cancer Aug. 10, 1999 at Mary Washington Hospital in Fredericksburg, Va.
View more history for Post - Department Headquarters in Des Moines, Iowa