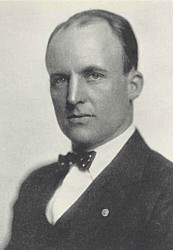 1921 – Hanford MacNider of Mason City, a highly decorated combat officer of the American
Expeditionary Forces and veteran of the Pancho Villa expedition, is elected national commander
of The American Legion and leads a cross-country victory tour for Supreme Allied Commander
Marshal Ferdinand Foch of France. MacNider would go on to serve as assistant secretary of war
under President Calvin Coolidge, as U.S. Ambassador to Canada in 1930, and eventually
command some of the heaviest fighting in the Pacific Theater of World War II. He achieved
the rank of lieutenant general before his death in 1968.
View more history for Post - Department Headquarters in Des Moines, Iowa