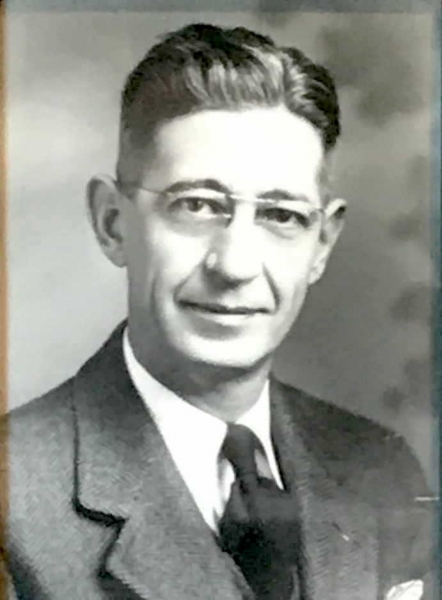 Funeral services were held last week in Sioux City, IA for Dr. Ewert Cecil Howe, 76, a Sioux City dentist for 44 years, with the burial in the Glenwood Cemetery. Dr. Howe was born January 20, 1894 in Glenwood, IA to Abram and Lenore Howe. He was a member of the First United Methodist Church graduated from Glenwood High School May 1912 and attended college at the University of Iowa to become a Dentist. 
In May 1917, Ewart Howe left for Ft. Snelling, MN for Officer's Training and was commissioned as a Second Lieutenant in August of the same year. Later promoted, Captain Howe was Commander of the Co. B, 129thInfantry American Expeditionary Forces in France during WW I. In 1919, this veteran became the first Commander of the newly formed American Legion Post 141 in Glenwood and represented Glenwood Legionnaires at the First National Convention in Minneapolis, MN that Fall.
Dr. Howe graduated from the University of Iowa College of Dentistry in 1920 as a Doctor of Dental Surgery. He married his high school sweetheart, Alice Darlene Gunsolley on April 16, 1921 at the home of Mr. and Mrs. W. B. Gunsolley and departed for their new home in Sioux City, Iowa where Dr. Howe began practicing dentistry.
Dr. Howe was past president of the Sioux City Dental Society and was a lifetime member of the Iowa Dental Society. He was a member of the Morningside Lodge 615, AF&AM Abu Bekr Shrine Temple, and the Sioux City Consistory. He was past high priest of the Sunrise Chapter, Royal Arch Masons and was past worthy patron of the Morningside chapter 502, Order of the Eastern Star. 
He belonged to Psi Omega Dental Fraternity at the University of Iowa. He also was a member of the Monahan Post 64 American Legion; Lions Club; Kiwanis Club; Morningside Commercial Club, and the Sioux City Boat Club. Survivors include the window; a daughter, Mrs. Virginia Lenore Drilling of Sioux City; and two grandchildren.