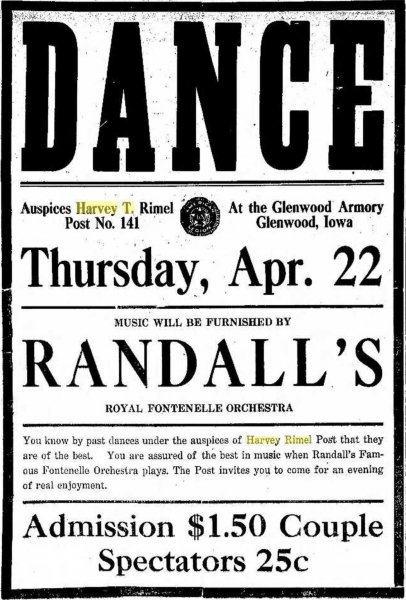 The Post Officers were installed at the regular meeting, Tuesday evening, January 12, 1926. A membership drive was started immediately with two teams selected, of which C. C. Lipsett and Morton Adams were chosen as the captains, which ended February 1st. Lipsett's team won the membership race and the losing team of Adams had to prepare and serve the feed for The Post. The feed was held and the food was splendid and ample for all, and Walter Billiard prepared the punch, which was greatly enjoyed. Over 75 members attended and music was provided by Guy Raines Old-Time Orchestra. A female impersonator took the audience by storm until he unmasked an Adjutant Dean was accused of sculldugery for keeping the gentleman out too long while he dressed. The party was tremendously enjoyed.
During this year The Post sponsored a skating pond in Bull Park for the safety of children, and also decided to encourage a Boy Scout Troop in Glenwood. Also, a ball game of the Fifteeners (kids under 15) of Malvern Post versus Glenwood Post was held with Malvern kids winning 12 - 5.
Several dances were held by The Post during the year and a joint Halloween Masquerade Party was another highlight of the year. Music was furnished and prizes for the best costumes were given. A donut eating contest was held along with other games, dancing, and singing. Dr. Carter was present and he prescribed treatment for all patients. A large attendance and beautifully decorated hall.
The Post took part in Memorial Day Services this year, with Commander Anderson and Chaplain Maxwell giving the ritualistic services at the cemetery. The Post decorated the serviceman's graves and also marched in the parade and furnished a firing squad for the days activities.
A great honor was bestowed on Mills County Posts at the District Convention held in Council Bluffs, Tuesday evening, November 23, when they were awarded a loving cup, donated by Father Pat McDermott, for being the first County over-the-top in 1926 membership campaign. Pat McGinnis, State Commander, made the presentation and the newly elected commander for 1927 and of our local Post, Merritt Mendenhall, excepted and responded.
This concludes the post history for the year 1926
1926 Post Officers
Commander- James M. Anderson
Vice Commander-Merritt B. Mendenhall
Adjutant-Leonard C. Dean
Chaplain-Byron N. Maxwell
Finance Officer-W. C. Rathke
Sergeant-at-Arms-Emer E. Hatcher
Service Officer-Carl H. Cook
Executive Committee:
B. N. Maxwell
Dr. L. A. Hollinshead
B. A. Matthews
Membership over 100!
By B. L. Kent, Post Historian 1953-1954