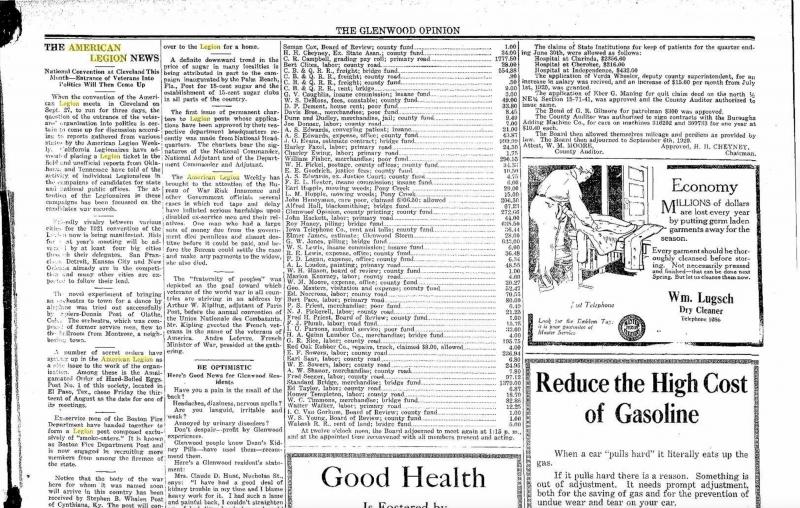 A meeting and election of officers were held Monday, December 22, 1919 at the court house with 60 of the 120 members present. Col. Mat Tinley of Council Bluffs (first Department of Iowa Commander) was present and delivered a stirring address in which he urged "the boys to get behind the American Legion and push forward to the point where it of right belongs". Elections were held and dues for the year were fixed at $2.50 that included a subscription to the Legion National magazine. The home of the post this year has been the meeting rooms of City Council. All veterans of the Grand Army of the Republic (G.A.R) and the veterans of the Spanish-American War were voted honorary members of the post. 
On Sunday, February 22, Military rites were held for Frank E. Widows, with the post attending in a body and serving as funeral escort. The Legion firing squad took part in the service and Chaplain Logan gave the ritual at the graveside. 
One of the outstanding activities of the post this year was the presentation on March 22, to the City Council, a resolution favoring the purchase of the Armory Building, which was signed by the Commander Cook and Adjutant Rathke. By popular vote, on April 5, it was decided by a large majority, that the city should buy the Armory.
Ceremonies were held on memorial day, with the post taking part and decorating the graves of our department comrades. 
By making application to Commander Cook, Victory Medals were issued on Armistice Day, to all members desiring them. In observance of the great day, H. H. Cheney as chairman, a beef was butchered for barbecuing. By noon, a large crowd was gathered in within one hour, all the beef was gone. W. C. Rathke what is in charge of the program for the day. Along with the entire audience repeating the American Creed, the speakers for the day were Dr. G. V. Caughlan and Captain R. E. Humphrey, veterans of the World and Spanish American Wars. 
Funeral services were held on August 4 of this year for Comrade F. H. Prein, with the American Legion attending. On Sunday, October 20th, Mills County Posts of the American Legion assisted each other in military funeral services for Lawrence Perdue and Edwin Grayson. The Harvey T. Rimel Post gave the ritual for Grayson and the Malvern Post gave the ritual for Purdue. Both services were held at Emerson, Iowa and where attended by about 75 Legionnaires.
This concludes the history for this year. Any additions or corrections can be taken from the records compiled from newspaper clippings compiled by D. N. Barnett, which can be found in the adjutant files.
1920 Post Officers
Commander-Carl H. Cook
Vice Commander-Harry J. Widows
Adjutant-William C. Rathke
Historian-Dr. G. V. Caughlin
Chaplain-Frank D. Logan
Finance Officer-Clarence B. Carter
Executive Committee:
Ewart C. Howe
Thomas C. Lacy
G.V. Caughlin
By B. L. Kent, Post Historian 1953-1954