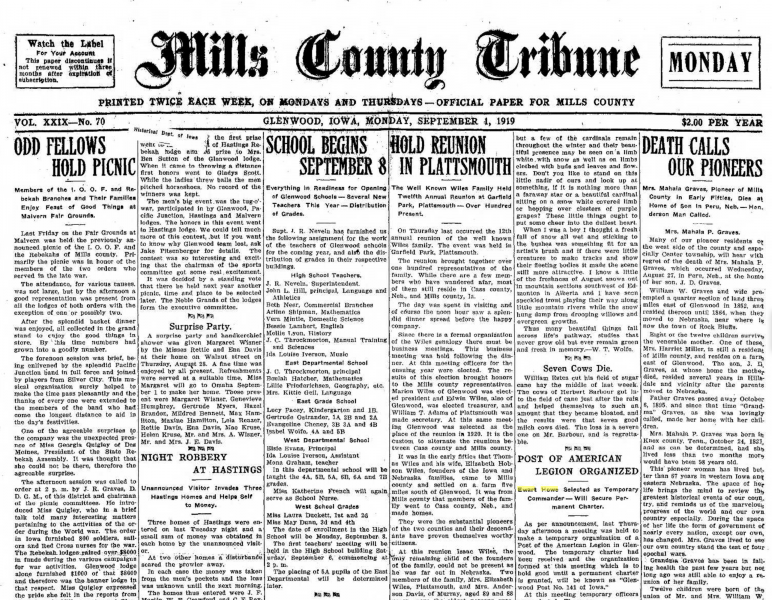 Ewart Howe Selected as Temporary Commander-Will Secure a Permanent Charter. 
As per announcement, last Thursday afternoon, a meeting was held to make a temporary organization of a Post of the American Legion in Glenwood. The temporary charter had been received and the organization formed at this meeting which is to hold the good until a permanent charter is granted, will be known as Glenwood Post No. 141 of Iowa.
At this meeting temporary officers were elected. These are: Ewart Howe, Commander, Thos B. Lacey, Vice Commander, W. C. Rathke, Post Adjutant, Harry Widows, Financial Officer, C. H. Cook, Historian, Frank Logan, Chaplain. The above officers will serve until the permanent charter is received.
Delegates to the state convention, which will be held in Des Moines this week September 4 and 5 we're also selected. The three-man to represent Glenwood Post are H. N. Baxter, Ewart Howe and W. C. Rathke. Following the meeting at Des Moines a campaign for members will be started. As before stated, all signing for membership previous to November 11 will have their names placed on the permanent charter.
From Mills County Tribune, Monday, September 1, 1919-