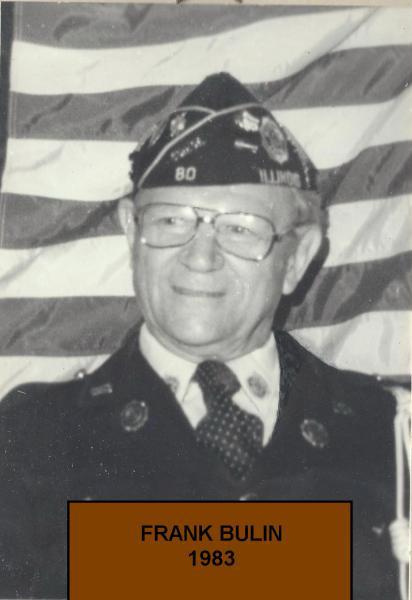 Frank Bulin has been an active member of Post 80 for many years and is well aware of the Post involvement in the village. Early in this year School District 99 began renovations of the baseball field to the north of the Legion property. This land was deeded to District 99 in 1949 shortly after the Legion purchased a 48 acre tract of land in unincorporated Downers Grove. The purpose of the donation was for an athletic field for the local high school. The land was donated with the understanding that the land could only be used for athletic purposes or it would revert back to Post 80. Now in 1983 the school is finally building a baseball field. only trouble is the large construction equipment has damaged the Legion driveway to the Post. An agreement was finally worked out where School District 99 and the Legion will share the maintenance of the road which is the only access to the Legion and the ball field.
The Post was finally able to hook up to village water several months after annexation. The old water well must now be capped if no longer in use.although several members want to use it to water the grounds when needed.
In the fall one Post member asked for the Post sponsorship of an entry in a demolition derby to be held at a local race track. The Santa Fe Race track located in a neighboring town is very popular and attracts about 10,000 visitors at each event. This would be great advertisement for the Post. Steve Williams had his own car and the Post agreed to sponsor him for an event. YUP, you guessed it, Steve took first place and brought a very impressive trophy back to the Post.
In 1983 due to safety reasons the Post 80 July 4th fireworks display was moved to a larger area on the south side of town. The Post collected money for the display as usual and turned all collections over to the Village.
It was in May of this year that I joined Post 80, but this is a story all it's own which can be found elsewhere in Post 80's history.
Another Post member who was quite involved with the POW/MIA programs wanted to get the Post involved with the rebuilding of a "Freedom Flame which was built in 1972 by the Downers Grove Junior Jay Cees . Since this memorial was dedicated to only one veteran the Post did not want to get involved with it. This to has a story of it's own and will appear elsewhere in this history.
All in all 1983 was a very good year. Bingo and rentals along with bar sales are supporting the Post. in 1984 George Novak will be commander and inherit the good and the bad from this year.