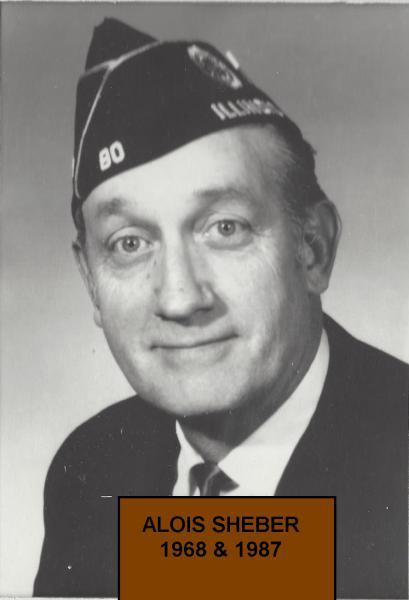 On September 6, 1967 Al Sheber opened his first meeting as Commander of Post 80. Business was as usual with a few surprises. Comrade Ray Fiene presented the Post with five chrome helmets for use by the Post 80 Honor Guard. Comrade Lou Edwards donated two World War one newspapers in hopes that they would be framed and placed on a wall in the Post home.
Since the pool table in the basement wasn't being used very much it was sold with a silent bid. The table sold for $17.00. The Post began looking for a tractor to maintain the Memorial Park.
The Village of Downers Grove began the "Blue Star" program near all the schools in the Village. Post 80 reviewed the new program and sent it's support of it. Residents could join the program of providing a safe house for any child in need of help.
Unrest began in December when it seemed that some members had contacted the Downers Grove ark Board and offered to give it some of the Legion property. Park surveyors came on the Legion property and were working out plans for the land. Since the land was dedicated as a Memorial Park in 1965 most of the members knew nothing of this agreement. Special meetings were held in January, February and March to discuss this. It appears that an unauthorized offer was sent to the Park Board in the summer of 1967 and an offer was sent back to the Legion with plans on the way the Legion Memorial Park would be transformed into baseball diamonds, tennis courts and a football field. After many arguments pro and con the matter finally came to a vote in March and the outcome was 96 votes to keep the land and 40 votes to give it away. The issue was not brought up again in 1968. Several newspaper articles about this when published in the local papers and photo copies are shown in the photo section of this history. By July the Post had bought a tractor for $825.00 and spent another $700.00 to build a 12 foot by 24 foot barn to keep it in. The tractor is a 1929 International Farm All. (in 2017 the tractor is still in use at Post 80)
As the Vietnam war was escalating the Post began to send local newspapers to military personnel overseas. A request was sent to the Village of Downers Grove to lower flags to half mast when a member of the military was killed in action. Also in 1968 a light was put up to shine on the Post 80 flag and pole. The light would not be turned off until the Vietnam War was over.
Mason Taylor will be Commander in 1969 with Hugh Myers as Sr. Vice, Elmer Mears as Jr. Vice and Donald Todd as Adjutant.