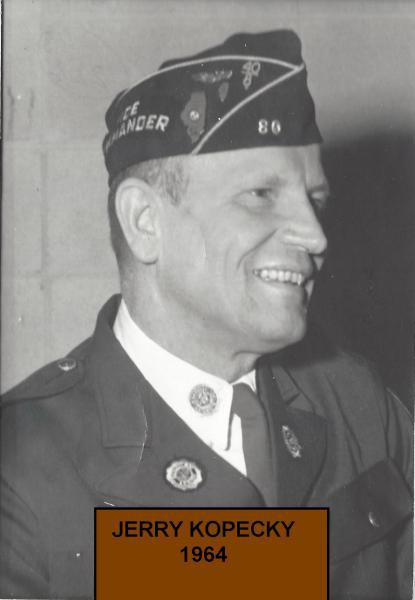 As Jerry Kopecky took command of Post 80 for 1964, all Legion programs were conducted as usual. The records for 1964 are not as complete as those of the past. The By-Laws are in the process of being rewritten.The year ended with 100% paid membership of 454. A traffic light for the corner of Saratoga and Ogden Avenues has been approved by the Village.
The Post is finding that new ways of generating funds are needed as the Post is operating in the red. Weekly fish fries have begun to help offset the loose of the car raffles. The Board of Directors and the membership have approved the painting of the inside of the building. All walls are made of concrete block and are natural color. It was estimated to cost about $3500.00 to paint the entire building and was completed by the end of this Legion year.
A new typewriter was purchased for printing the monthly newsletter. Rental rates for the hall were raised as expenses have proved to be more than anticipated. Separate charges have been added for use of the kitchen and clean-up.
Investment funds were transferred to the operating account to meet the rising cost of operating the Post.
At the June 1964 meeting the following officers were elected for 1965;
Commander ......... Earl Will
Sr. Vice ......... Leonard Voss
Jr. Vice ......... William Polk
Adjutant .......... Steven Kadlec
Service Officer ... John Morris
Finance Officer ... Eugene Kappleman
Chaplain .......... Lola Sluga
Sgt-at-Arms ....... Hugh Osborne
Historian ......... Tom Lanagan
By the end of this Legion year only $1533.00 has been collected for the 4th of July activities. The fireworks alone are costing over $3500.00. Changes are needed to carry the Post into the future.