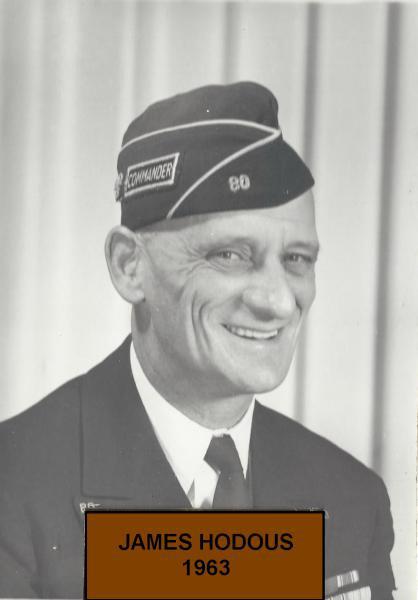 Installation of Officers was held on September 8th in the new Post 80 Hall. Commander John Weller spoke of various types of rentals which could be held in the new hall. A schedule of Legion events should be prepared and on those dates the hall would not be available for rent.
As in previous years all Legion activities were carried out during this year. With a new hall, bar and lounge more activities were added to the calendar. A Hawaiian Holiday was added on September 22nd and the entire membership was invited.
A building manager was hired to handle rentals of the new hall.Carl Shaw would be the first manager and be paid 10% of the gross receipts on a monthly basis. A bar manager and bartenders would be added as well. After only a few months as Commander, John Weller took ill and stepped down and Jim Hodous moved up.
The local D.A.R. chapter donated a flag pole and three bronze plaques which were dedicated on Veteran's Day. The flag pole and plaques were placed in front of the Post Hall. Along with new activities at the Post, the 2nd Division would hold it's annual convention at Post 80 and several hundred are expected to attend. A portable stage was purchased and placed on the west wall between the two large windows. The stage is 16 feet long, 8 feet deep and raised one foot above the floor.
A heated discussion on the firing of salutes on Veteran's Day was held at the October meeting. One member said that because Veteran's Day was on a Sunday, we should not fire salutes as this would disturb local church services. It was decided that twice a year the American Legion honors veterans. Memorial day we honor those who gave their lives in war and Veteran's Day we honor all living veterans and on these days there should as much fan fare as possible, even on a Sunday. Salutes were fired as usual.The first New Year's party at the new Post Home was planned as well.
The Santa visits for Christmas this year were very successful. 75 homes were visited and over 300 stockings were given to the children. It was noted that several of the homes visited were not of veterans and the program will be reviewed for next year.
For 1963 the carnival and car raffle were dropped due to legal matters. The parade and fireworks programs will remain the same as in the past. Since 1922 Post 80 has funded the 4th of July activities. New sources of income will be looked into for the future.
More of the Legion Ogden property was sold and $30,000.00 was divided and put in three banks in the Village. $2000.00 was put in the parade fund to secure bands and floats for the 4th of July parade.
Membership is now at 422 paid. The Post kept the Legion Baseball Team for the coming season and will review the program for next year as players are becoming more difficult to secure.
In March Fred Lester donated framed copies of The United States Constitution on behalf of his son, Frederick. Once again all Legion functions and activities are being carried out in fine form. Jerry Kopecky has been elected Commander for 1964. There are notes found that Dino Convale had typed a Post History to bring our history up to date, but no such document could be found at this time. It is noted also that the Post has reached an all time high membership of 457 before June 1st.
As 1963 comes to a close once again all Legion programs have completed and the new Legion year looks promising. The Post has money in the bank and the investments are doing well. Jerry Kopecky will have his hands full as Commander for 1964.