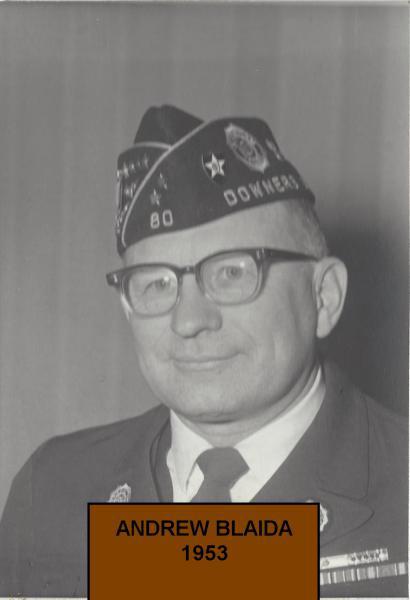 Post 80 is still in a dilemma for experienced leadership. A well known and popular spark plug with no Legion experience was chosen as commander for 1953. This was Alois Mrkvicka. He served for three meetings and his work transferred him to Springfield. Andy Blaida was the Senior Vice and now became commander.
Andy Blaida had served on several committees and worked carnivals and parades in his time with the Legion. He had two brothers, who were also very active members of the Post. Andy had been a combat trooper and had survived the Battle of the Bulge. He was the man we needed to put the Post back on track.
On taking over the chair, Andy was full of the old pepper, had many good ideas,and handled the gavel most competently. He had a faithful following and a fine turn out for Armistice and Memorial Day Services. This year the 4th of July parade had many out of town bands and floats. The Boy and Girl Scout troops were from our Village. There were several hundred children on bicycles decorated in red white and blue. The parade ended at the Legion Field. The carnival was very profitable and the fireworks were spectacular. People from all over the county came to see the biggest fireworks display in Du Page County.
The car raffle was the most profitable ever. Tickets were grouped in packages of 60 tickets each. Each package has numbers from 1 to 52 and 8 marked free. Each tickets cost was equal to it's package number.#1 was 1 cent #5 was 5 cents, numbers 25 to 52 were 25 cents each. A total package when sold would equal $10.00. About 200 of these packages were sold. Each Legionaire who sold a full package would get his dues for the coming year paid by the Post.
Andy Blaida had a very successful year and had brought life back to the Post after a year and a half slump. The Post was again on the right track and looking ahead and hoping for a new Post home on Ogden Ave.
For 1954 Herschel Hubbard has been elected commander.