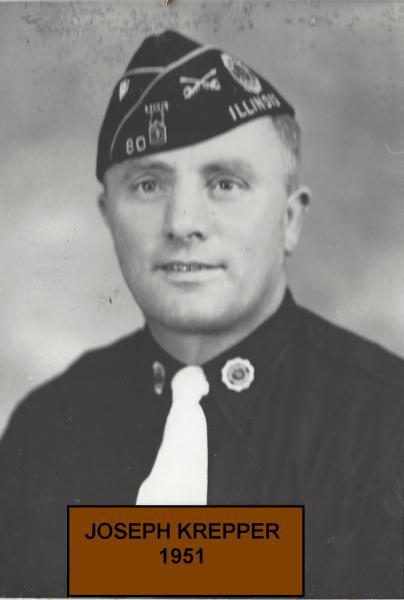 With eighteen years of Army life and now a Chief Warrant Officer in the Illinois National Guard, Joe Krepper becomes Commander of Post 80. During WW II he served as a Master Sergeant in the Army and was an interpreter at the Nazi trials in Germany. He could tell many interesting stories. His wife, Corabella is also a member of Post 80. She was a Captain in the Army Nurse Corps. They both were great lovers of riding horses and had several horses of their own.
Commander Krepper originated the idea of holding horse riding and jumping events at our new Legion Field on Ogden Ave. These were the first events held on the Ogden property. The Post sponsored and provided loving cups for prizes at these events. The riding shows were very profitable for the Post.
Once again a year appears with no account of the minutes from meetings. There are a few notes but no names or dates are contained within them. Membership seems to be at a standstill.
old timers are relaxing at home and the younger members are sticking with their families as well. Horse shows, carnival, fireworks, and other activities are now done at the new Legion Field. There is no mention of the Korean War in any records as of this date. Finding a commander for next year is proving to be difficult.