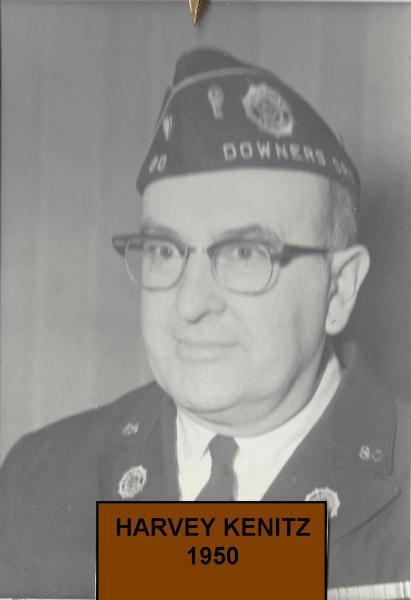 Comrade Kenitz was the first World War II veteran to become commander of Post 80. Kenitz was blessed with a wonderful personality and was deeply admired by all who knew him. He was very civic minded, and a most promising business man. Harvey worked hard to arrive at the top of Post 80.
This most modest young leader had seen plenty of action with the Navy in the South Pacific during WW II. Upon his discharge from the service, he decided to settle in Downers Grove. He had made a great many friends while in the service and after living here for a short while he got lonesome for his buddies. As he only had a few acquaintances here, he got to pondering just how he could possibly overcome this hermit feeling. On a sudden impulse he decided to join Post 80. He has been a tower of strength, serving two terms as adjutant, served on the auditing and budget committee as well as worked the carnivals and other fund raising programs.
There was a feeling through out the Post that a new home would soon come to be. Since acquiring the land on Ogden Ave, expenditures were managed to save money but also maintain Legion programs. In late 1949 the Post entered into an agreement with the County School Board to allow the use of 7 acres along the northern end of the Ogden property as an athletic field for Downers Grove High School. The agreement was such that the school could only use the field for athletics and no buildings could be erected on the property without Post 80 approval. If the agreement was broken by the school the land would revert back to the Post.
Records were not kept very well this year but Legion programs were carried out and funds were set aside for the future new Legion Home. Joseph Krepper was elected to be commander in the coming year.