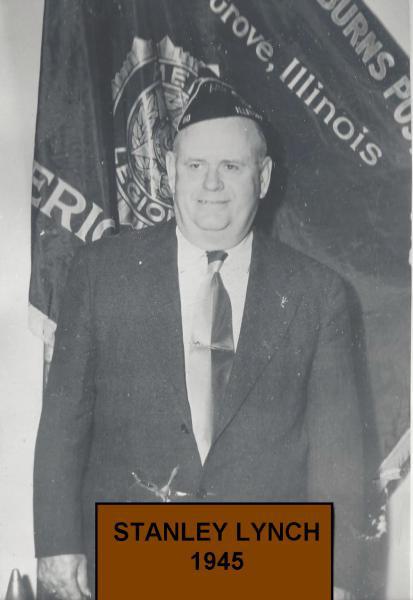 As the war begins to wind down and more and more veterans begin to return home Post 80 looks for more ways to raise funds to assist them. The Downers Grove Honor Roll now has over 1700 names of the men and women from this community who answered our country's call to arms. As of this date 31 have given the supreme sacrifice.
At almost every meeting returning soldiers were invited to attend and tell of their experiences and some we most appalling. We began to wonder how they got out alive. Post 80 did it's best to see that all returning veterans were greeted at the train station. It was only fitting that since we helped send them off to war that we also welcomed them back home. The draftee trains were still leaving on a monthly basis, but now many were also returning.
Fred Lester was in charge of Graves Registration and was always on the ball. He had contacted Springfield Illinois and received information on the exact location of all our war dead. There was a cemetery at Butterfield Road and Highland Ave. where no monuments were allowed. There are eight veterans buried there. Fred would place a flag and Legion marker on each grave say a prayer and then remove them as this is a private cemetery and no markers are allowed. (in 2017 this cemetery no longer allows any ceremonies or trespassing. It is gated and locked.)The other cemeteries in Downers Grove welcome the American Legion. A ceremony is even performed annually at the family grave site of Pierce Downer, the founder of our village.
Visits to Hines and Vaugh Hospitals are now conducted several times each week. More and more veterans were returning and beginning civilian life in these hospitals. In June of 1945 a special fund raiser was held at the High School auditorium. "The Baker Musical Revue" sponsored by Post 80 was very successful, the back page of the Revue program showed a picture of the Honor Roll. All the profits were put in the Service Officer's fund and used at the hospitals for the vets.
Louis Edwards was elected commander for 1946 at the June meeting.There was more celebration at the 4th of July events as there were fewer trains taking draftees off to war and more veterans were returning. In August word was received of the bombing of Hiroshima and then Nagasaki in Japan. Germany had already thrown in the towel and it the end of the war was now becoming reality.
When news of the war ending reached Downers Grove all bedlam broke loose. The Legion doors were thrown open wide. A couple of the Legionaires got out the drums and bugles and marched south on Main Street They carried the American Flag and soon hundreds of residents joined in. The unorganized parade wound it's way back to the Legion Hall on Burlington Ave. and the entire community was overwhelmed with joy. WORLD WAR TWO was over.