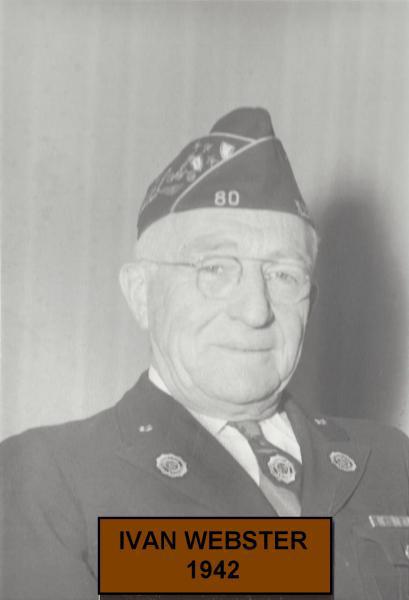 In September of 1941 the worry of another great war was on everyone's mind. Post 80 was aiding with the local draft board and supplying coffee and donuts at the train station for the draftees and their families as more men left for military training. Normal Legion activities were conducted until December 7th when the Japanese attacked Pearl Harbor. The United States was once again at war.
On October 1, 1941 Post 80 organized it's own Initiation Team, composed of Rollin Whitaker, Henry Monfries, Bill McCollum, Bill Finger, Tom Lanagan and Fred Lester. All of this together with Youth Week, Lisle Orphanage Picnic, Christmas baskets for the needy, Memorial Day, 4th of July parade, carnival, fireworks, and countless other activities. Webster had a most wonderful year.
From then on Post 80 was one mass of continued activity. Mainly to do it's utmost to help the war effort in any way possible. That was Commander Webster's goal, and what a Herculean job he performed.
Shortly after war was declared the Post organized a committee to be known as the "War II idea committee". This committee composed of Lou Aldrich, Bill McCullum, Will McCleary, L.W. Eddy George Peterson and Walter Staats. Any kind of idea that may help to win the war was sent to the proper department in Washington D.C. Many suggestions were received.
Post 80 announced their opening of a Radar School on Thursday May 21,1942 at the Lincoln School. This school to be exclusively for young men about to enter the armed services. Post 80 instructors were Captain Davidsmeyer, R.A. Kay, L. Aldrich, E. Hallerman, R. Poemray and H. McLeary. Amost able and capable staff.
Past Commander(1930) and late mayor Arthur Johnson of the U.S. Air Corps was killed in an auto accident while en route to Chanute Air Base. He had also served in the Great War. The DuPage County Retreads, a group of men who had served in War one have their own organization with a meeting hall in Wheaton, Ill. They named their camp The Arthur L. Johnson Camp in memory of a most wonderful buddy.
Post 80 sponsored a local drive to collect phonograph records to help supply entertainment for the men and women in service. Many thousands were collected. Post 80 also sponsored a USO and with the help of our local Downers Grove Championship Band, made four more local drives. Boy Scout Troop 80 also helped in these efforts.
The two German Navel Guns which guarded our Village Hall since it's erection, were sold for scrap to help the war effort. The two guns were originally secured by Post 80 and were taken from one of the German Sea Raiders during War One. The Post also offered free use of the hall to the Spanish- American War Veterans.
Commander Webster suggested that bust photos of all our Past Commanders be taken and placed on the wall of the Post Home. Commander Webster's yearly budget called for a total of $2291.25 in expenses. The Post Blood Donor Corps is in full swing and two donations were given in February 1942. The Post has been most prompt in locating employment for returning veterans.
On November 9, 1941 many guest attended the open house of Post and Unit 80. At Christmas time 150 packages were sent to our boys in the service. Thomas Arndt has been elected commander for the coming year.