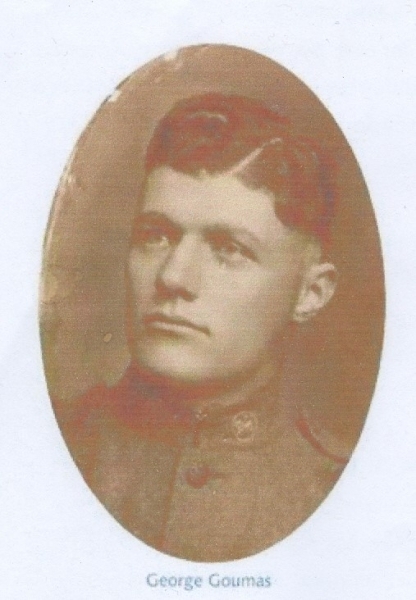 Birth: 15 October 1891
Death: 3 July 1960 (aged 68)
Burial: Barrancas National Cemetery
            Pensecola, Escambia Coubnty, Florida, USA
            Plot 27 0 21
Inscription: PFC, US ARMY
                     WORLD WAR I
                     DISTINGUISHED SERVICE CROSS
                     PURPLE HEART
Memorial ID: Find A Grave Memorial 94080293
Family Members:
Spouse: Emma Stell Goumas (1887-1984)
Children: Dorothy E. Goumas
                 and another daughter
CITATION FOR DISTINGUISHED SERVICE CROSS AWARD:
George Goumas, Private First Class, Company B, 307th Field Signal Battalion.  For extraordinary heroism in action near Fleville, France.  October 21, 1918.  This soldier was in a relay station which was struck by a shell wounding him and five others.  After assisting the other wounded men to a truck nearby, he returned through the falling shells to the relay station and assisted another soldier in repairing the wires which had been cut, remaining at his post until he had made sure that the lines were in good condition and he was ordered to come in by his commanding officer.  Residence at enlistment: 9 Park Square, Marietta, GA.
The George Goumas murder trial was one of Cobb County's most notorious in our history, even though it's just about been forgotten now.  But it has come vack into focus, thanks to a well-written article by retired Cobb Juvenile Court Chief Judge Jim Morris in the October issue of the Georgia Bar Journal.
Last week's column recounted, via Morris, how Goumas, a Greek imigrant, decorated World War I veteran and Marietta restaurateur, had earned the wrath of the local Ku Klux Clan for marrying a white girl, and how he had clashed in 1931 with the local Ford dealer over ownership of a car.  Goumas later went to the dealership on Atlanta Street, and apparently under the influence, shot popular dealership manager Doyle Butler twice, killing him.
Goumas was quickly transferred to the Fulton County jail by Sheriff Tom Sanders, who feared a repeat of the Leo Frank lynching.  Goumas' lawyer later filed a motion for a change of venue, claiming he could not get a fair trial in Cobb.  But Superior Court Judge Harld Hawkins ruled against Goumas.
The trial was scheduled for November 1931, and Hawkins, to his credit, realized that Goumas needed local legal representation, rather than the Atlanta lawyer who had worked on his behalf to that point.  Not having Marietta lawyers would have been "a tremendous cultural liability" for Goumas, Morris writes.
So he chose a pair of young Marietta lawyers and told them it was vital they represent Goumas.  But he also warned them that if they agreed to the appointment, they might never be able to work again in Cobb.
One of the lawyers was L.M. "Rip" Blair, son of a Cobb judge and a WWI veteran.  He later was instrumental in persuading the Bell Aircraft co. to build a giant plant here (now operated by Lockheed Martin) during WWII in which to build B-29 bombers, and also served as Marietta mayor.
The other young lawyer was a former teacher and coach Sam Welsch, another future mayor of Marietta.  (Welsch and Blair would later become archenemies and Welsch would unseat Blair in one of the town'smbitterest mayoral races.)
Both young men agreed to take the case.
When the trial started, the state had voluminous evidence and witnesses in its favor.  "The defense consisted only of a well-told, unsworn statement delivered by Goumas, describing his life, his war actions, his blackouts from shell shock and his sincere regret at killing his friend..." Morris writes.
"Goumas blamed his actions on the blackout, but his motivations were widely believed to be a response [to] an auto-theft allegation".  And, says Morris, it is interesting that Goumas never mentioned being harrassed by the KKK.  "(It) muist have been tactically excluded in consideration of the likely sympathies of some on the jury", Morris says.
The prosecutors argued that Goumas had never sought treatment for war injuries and had made up the shell shock story in an attempt to save his skin.  Blair, on the other hand, played up Goumas' wartime heroism, flaunting his medals before the jury.  "He promised that Goumas, if given mercy, would not appeal and would never seek clemency; he would appreciatively serve out his life sentence to atone for the wrong he had committed."
Blair's appeal worked.  After just four hours of deliberations, the jury found Goumas guilty, but recommended life in prison, not the death penalty.
In another unusual move, Hawkins locked down the courtroom prior to the verdict and during the sentence, until after the sheriff could move Goumas into a waiting car and headed back toward the Fulton jail.  "By the time the crowd outside learned the verdict, Goumas was safely isolated from any outcry," Morris writes.
The case took an unusual twist five years later in 1936 when it was reported that Goumas' attorneys had applied to Gov. Gene Talmadge for clemency.  "(The newspaper story) goes on to state that true to his word, the clemency application is not being sought by Goumas, but rather, by "members of the Greek American community in Atlanta"  - most likely, the American Hellenic Educational and Progressive Association.
Other stories reported that his clemency appeal was denied again in 1941.  But his request was granted in the mid-1940s, apparently after a special appeal by members of the Greek community in Thomasville.  Goumas' clemency file contains a recommendation from the warden that he be released, offers from Thomasville Greek-Americans to employ him and assurances that he would never return to Cobb.
Goumas went on to become an honored member of the American Legion post there, ran several small businesses and apparently lived a quiet life until his death in 1960.  He is buried in the Barrancas National Cemetery in Pensacola.
Concludes Morris: "What does this say about the rule of law?  That is isn't clearly written in black and white.  That it isn't necessarily linear in its application.  That it takes nurturing to keep it alive.  That it isn't just the refor helping to remind us all thatit isn't the ressponsibility of the courthousde to make it work.  That sometimes we are just lucky.  That sometimes we are good."
And we owe Judge Morris a big thanks for helping to remind us of all that, and for reminding of the case that 80 years ago dominated the headlines here in Marietta.
-Bill Kinney is the Associate Editor of the Marietta Daily Journal, 1 January 2011