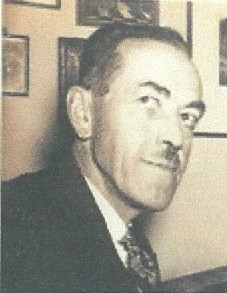 Birth: 16 October 1892
Death: 24 January 1963 (aged 70)
Burial: Mountain View Partk Cemetery
            Marietta, Cobb County, GA
            Plot: A-263
INSCRIPTION: A FAITHFUL AND DEVOTED SON
                          HUSBAND AND FATHER
Memorial ID: 69472112 Find A Grave
Family Members:
Siblings: Sister - Mrs. Flora Whitmire of Eau Gaillie, Fla
                Brother - W. A. Crowe, Jr.
Spouse: Edith Hudgins Crowe (1849-1992)

Children: Arthur Lyions Crowe (1924-2009), born 25 February 1924, Creatwood Farm Smyrna; died 13 January 2009 in Marietta
                Daughter - Edith McCamy Crowe Ingram, born 5 October 1925, Creatwood Farm, Smyrna, Georgia
Bio:
Arthur "Pat" Lyons Crowe was born on 16 October 1892 in Atlanta, GA.  He moved with his family to Creatwood Farm, Smyrna, GA in 1916.  He attended Auburn University and later received a masters degree in landscaping from a Michigan college.
During WWI, he was commissioned as Captain Field Artillery Section Officer's Reserve Corps, 9 August 1917, as a Supply Officer in support of 82nd Division, 321st Field Artillery.  He was deployed to Europe in late May, 1918, eventually landing in Southampton, UK, then on to France, where he remained for the duration of the war, until the Armistice ended the war, 11 November 1918.
He supplied the 321st Field Artillery with food, both for humans and horses, office supplies, tools, paint, saddle soap, blankets, pillows, even an Edison Phonograph, Army Model, and Victor Records.
He spent the winter of 1918 in France on the Western front, and survived the Meuse-Argonne offensive, where some of the most gruesome trench fighting of the entire war took place.  It was muddy, wet and cold for the duration of that winter.  Interestingly, he served under very similar conditions as his son, Arthur Lyons Crowe, Jr., during the Second World War.  Crowe, Jr., a private in the 9th Infantry Division, landed on D-Day plus 2, and went on to survive the Battle of the Bulge over the winter of 1944-1945.  His major complaints in his letters home were mud, cold, snow and rain, as were those of his father during the winter of 1918.
Arthur Lyons Crowe, Captain Field Artillery, 157th Depot Brigade, is honorably discharged from Military Service in the United States Army at Camp Gordon, Georgia on 30 April 1919.
He founded Creatwood Dairies, Crowe Poster and Advertising Company, and Creatwood Farm Nurseries, having received a Masters Degree in Landscaping from a Michigan college. Creatwood Daries began operations in 1927, and was the first dairy in Cobb County to pastueurize and homogenize milk.  The dairy merged with Foremost Dairies in 1954.  Pat Crowe once served as the Director of the American Dairy Association.  He was the founder of  the Crowe Poster and Advertising Company and a member of the Georgia Outdoor Advertising Asssociation.
The Crowes operated the Gurnsey Jug, a popular restaurant for travelers along US 41 (now Atlanta Road) a mile south of Smyrna, from the 1930s until the beginning of WWII when gas rationing began.  The building, moved from it's original location, is still standing at the entrance of the Heritage at Vinings.  When the land was sold in 1997, Creatwood had been in the Crowe family for 103 years.
American Legion Highlights:
Charter Member and First Commander of Horace Orr Legion Post 29
Senior Vice Commander in 1939, when Legionnaires re-elected A.E. "Dick" McCleskay as Commander
Civic Highlights:
Commissioner of the State Revenue Commission under Governor Eugene Talmadge.  Later became Vice-Chairman.
Director, Norwega Production Credit Association in Cartersville, Georgia from 25 October 1941 until 25 November 1959.
Regional Chairman of the Outdoor Advertising Association of America, 22 February 1952
Member of Rotary Club
He died 24 January 1963, at Brawner's Hospital, Smyrna, Georgia, of cancer of the floor of the mouth.  He was a member of  the Marietta First Presbyterian Church.