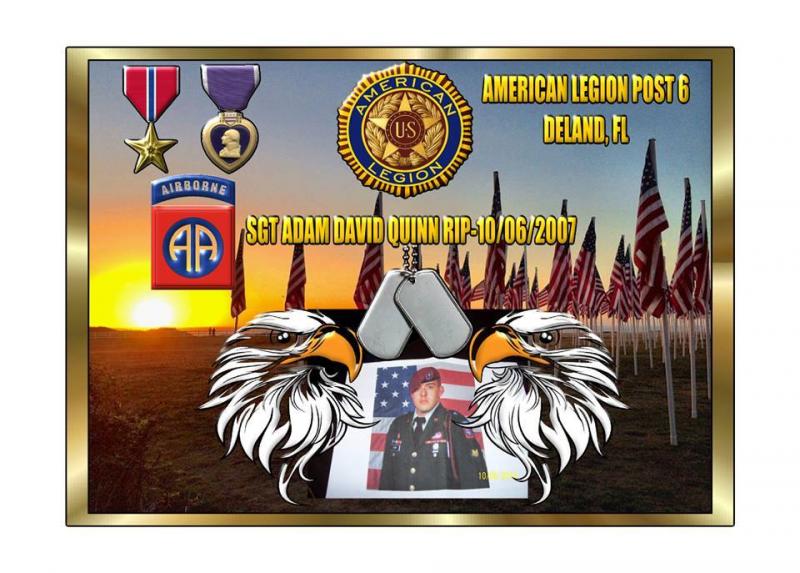 Adam Quinn was born on June 6, 1985, and was a Junior Reserve Officer Training Candidate while attending Deland High School in Florida. Upon graduation, Adam enlisted in the Army and served with the 82nd Airborne Division, which deployed to Forward Operating Base "Phoenix" in Afghanistan.
A roadside bomb detonated near his vehicle, and Specialist Quinn lost his life on Oct. 6, 2007. He was posthumously promoted to sergeant, and awarded the United States Army Bronze Star Medal and Purple Heart Enduring Freedom Medal.
During the rededication ceremony on Oct. 5, 2014, Adam's brother Asa said, "Adam was a part of his community and has been extremely missed. I think The American Legion has chosen a tremendous way to honor my brother. Everything The American Legion has done for my family in the past seven years has been a blessing."
Over 400 people attended the ceremony. Quinn family members present were wife Faye (who was seven months pregnant when Adam's life was taken from him), his parents Chuck and Sherri, his brother Asa, and his aunt Cindy.
The American Legion Family was well represented; i.e., Department of Florida Commander Jay Conti Sr., and his staff; Auxiliary Department of Florida President Erna Schwabe and her staff; and American Legion Rider District 17 Director Mark Burke. Various other organizations represented included AMVETS, the Gold Star Mothers Association, the Marine Corps League, the Patriot Guard Rolling Thunder, and VFW. The legislative branch was also represented; i.e., Deland City Mayor Robert Apgar read a proclamation declaring Oct. 5, 2014, "ADAM QUINN DAY" in the city of Deland, Fla.; Volusia County Chairman Jason Davis read a proclamation declaring it "ADAM QUINN DAY" throughout the county; and Department of Florida Commander Jay Conti Sr., read a proclamation from Gov. Rick Scott declaring it "ADAM QUINN DAY" throughout the state.
Post Commander George Rollinson had the sign unveiled to display the official name change of the post home to American Legion Adam Quinn Post 6. Individuals chosen to unveil the sign were highly decorated veterans and dedicated Auxiliary members. Rollinson stated, "This ceremony was to honor one of our local children, family member, veteran and soldier. Adam decided to become part of that 7 percent and serve our great country, which he did with honor and pride. It's unfortunate he lost his life and this is our way of securing his name and ensuring it lives for eternity."
Submitted by: Post 6 Commander, George Rollinson