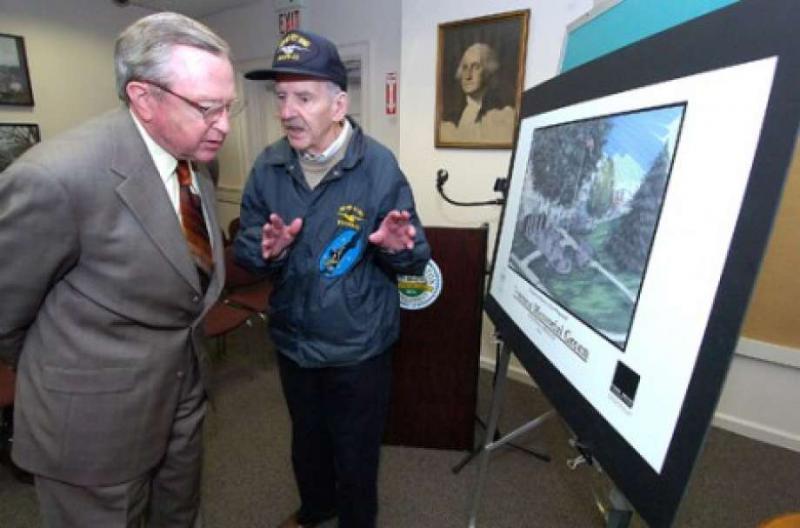 With an idea born of his service to this country, Post 86 member Don Klotz, a WWII Navy veteran, began his quest to build a larger memorial dedicated to those who served and died fighting in this nations wars. From the French and Indian wars up to the Iraqi war, the names of those KIA are permanently engraved on six granite stones in Wilton Center. It took two years of planning, fundraising, gathering contractors and ultimately completing this wonderful memorial.
86 names are included on these granite stones of varying heights, with flowers planted around all the memorials. During the dedication, four Wilton high school students portrayed friends and relatives of four of the fallen.
Emma Bendix portrayed Sarah Hawley, the daughter of Ezekial, who perished in the Revolutionary War. 20 Men from Wilton died in our War of Independence. Michael Kaelin dressed in Union blues as the friend of Wilbur Morgan, who died at Gettysburg. His unit, the 17th Connecticut, lost 197 men to death, wounds and capture, of a total of 800. Morgan actually survived the battle, but died of his wounds a month later at home in Wilton. Alex Bendix Wore a WWI Marine uniform, playing Joseph, the brother of James Bennett Whipple, the first KIA in the Great War from Wilton. James died on the battlefield at Belleau Aisne June 3, 1918, where is buried today. Finally, Kelsey Wood represented Hazel Ficke, the mother of Martyn who was killed defending his patrol in April 21, 1945 in Germany. He was a PFC with Company H, 5th Infantry, 71st Division, 3rd Army, commanded by George Patton. He is the only known casualty of this nations wars buried at Arlington National Cemetery.
Unfortunately Comrade Klotz never saw the completion or dedication of his brain child, but his widow Ann was there to join in the ceremony.
Pictured here is Don Klotz (right)unveiling the plans of the Memorial with Wilton First Selectman Bill Brennen.