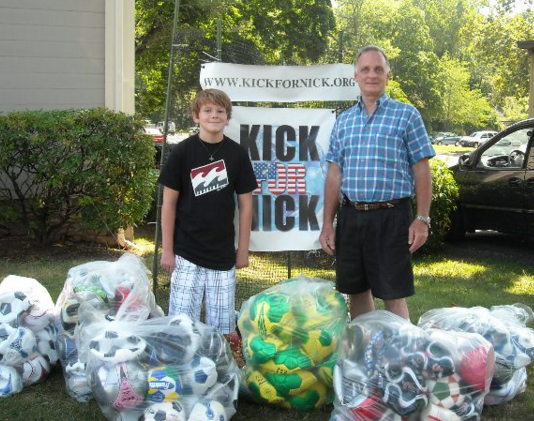 Nicholas Madaras was a Wilton resident, who enlisted in the US Army and began training July 4, 2005. He graduated Airborne school and was assigned to the "Silver Lions" 1st Battalion, 68th Armor Regiment, 3rd Brigade Combat Team, 4th Infantry Division, Fort Carson, Colorado. Since his unit was already deployed to Iraq, Nick deployed in February, 2006. He was assigned to the Personal Security Detail of Lt. Col. Thomas Fisher, his battalion commander. His assignments included driver in the Lt. Col.'s convoy, and the unit's sniper. On Sept. 3rd, 2006, Nick was KIA by an IED explosion.
While on leave at home before his death, Nick explained he was amazed at the resiliency of the children affected by the war, and their love of soccer. Unfortunately, they had no balls to play with, so they made do with tin cans and stuffed rags. Nick asked his family to send him soccer balls to hand out to these children. Unfortunately Nick died before his dream to hand out the balls came true. Shortly after his death, Post 86 member Ken Dartley approached Nick's family and asked about the idea of collecting soccer balls to send to the troops in Iraq to hand out to the children.
From this simple idea, the Kick for Nick project has grown to an ever expanding and worldwide endeavor. As of February 2017, troops and children programs from more than 25 countries have received more than 47, 000 balls that have been collected from 47 states. This program has impacted the effectiveness of troops that have passed out these balls, relating time after time the goodwill and cooperation from locals in the fight against Al Quaeda and ISIS.
From Kick for Nick, grew support for the homeless shelter Homes for the Brave, located in Bridgeport, CT and the first female homeless shelter in Connecticut, Female Soldier Forgotten Heroes. In fact, this home for the females is named the PFC Nicholas A. Madaras Home for Homeless Female Veterans.
Post 86 is proud to be associated with this wonderful program and continues to support The Kick for Nick Foundation (a 501c3) program. For more information, go to kickfornick.org.