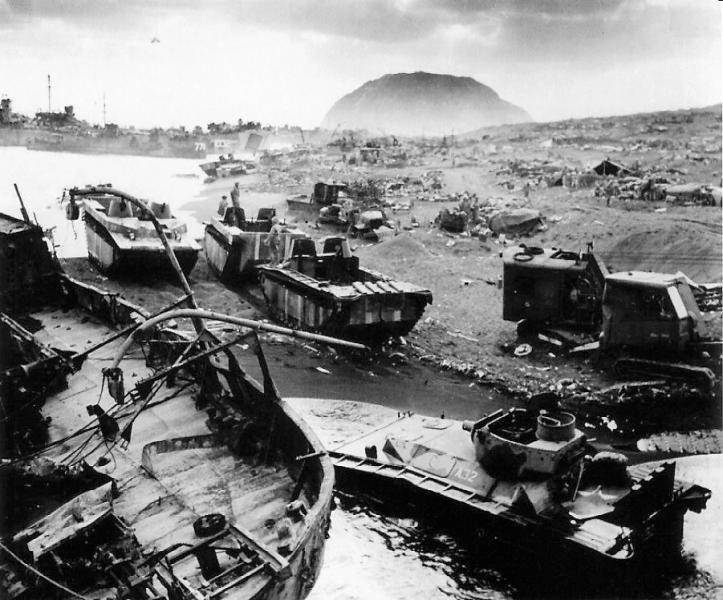 This letter was written by Post 86 commander Joseph Hopkins relating his participation in the second flag that was raised on Mount Suribachi.
"Dear Dr. Norman Boas:
Some time ago you asked me to recall the circumstances under which I gave the large Flag to the Marines from my L.S.T. 779 Flag(indecipherable) for the famous Flag raising over Mt. Suribachi on the Japanese Island of Iwo Jima in 1945. As Captain of L.S.T. 779, I was ordered to beach two days before any other L.S.T because the Marines desperately needed their largest guns, 75mm howitzers and the 200 Marines needed to man them which I was transporting. The entire Marine invasion force was pinned down on the beach and had to advance off the beach.
From then on, my L.S.T. was constantly landing more troops from APA's on to the beach adjacent to Mt. Suribachi, until Finally the Marines secured the mountain and raised a small Flag over it. As this Flag could not be seen by all the troops on the island, or by the ships at sea, a marine came aboard my ship and asked for the largest Navy Flag we had.
This second Flag raising was photographed by a number f photographers who were either killed or lost their film while being fired upon or in small boat sinkings except for Joe Rosenthal's Famous photograph which symbolized the Spirit of the Armed Forces in the Pacific, was reproduced for War Bond Drives, and inspired the huge monument of the Flag Raising memorializing the Spirit of the Marines.
This past Christmas, the enclosed autographed photograph was taken of me painting to my L.S.T. 779 [sic] in a painting hanging in the Washington D.C. Marine Historical Museum next to a miniature of the Iwo Jima Flag Raising monument and the tattered end of my Flag Framed for posterity.
Sincerely yours,
Joseph A. Hopkins, Cmdr."
THE PHOTO ACCOMPANYING THIS ARTICLE SHOWS LST 779 LANDING AT IWP JIMA, THE SHIP IS IN THE BACKGROUND.