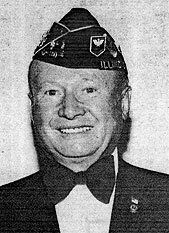 John was born Nov 3, 1903 in Limerick City, Ireland. He was a man of great faith and began training for priesthood at a very early age. He attended seminary until the age of thirteen when poverty, political strife and the outbreak of influenza changed his life forever. The influenza outbreak claimed three of his brothers and two sisters when John then immigrated through Canada to the United States.
In 1926, he began working for the Burlington Railway in Chicago and except for a tour of military service, worked for the company until his retirement in 1968. During his military tour, he served as a medic in the Army. In 1943, he was riding in an ambulance when it struck a tree that killed five of his comrades. He vowed then if such and not war had resulted in these five deaths; he would never drive a vehicle again…and he never did until his death in 1989.
His Legion life began when he joined Post 562 in Chicago. When he retired and moved to Youngtown, he transferred to American Legion Post 62. He met his wife Mildred and following their marriage, became a devote Methodist. His transfer into Post 62 began a second career of service to the American Legion and all veterans.
He served in every office of Post 62. He was Post Commander three separate terms; 1971-72, 1972-73, and 1975-76. He served as District 11 Chaplain, Area B Chaplin several times and as Department of Arizona Chaplin in 1968-69. John conducted over 400 funeral services and many more memorial services of all faiths. Throughout his service, he was always on call for our veterans during rain storms, heat waves and the coldest days in the mountains. His motto was "veterans, not faiths" and he could be found serving veterans throughout our state.
John could be seen on any given day providing spiritual support and service wherever the need arose not only to our veterans but out in the community. In his later years, illness took its toll, and until the last weeks of his life, John was always there for Post 62. One of his favorite goals was to begin and sustain the "Four Chaplains Service" for the Department of Arizona, Area B, District 11 and Post 62. His continued efforts for this program cannot be surpassed and he set an exemplary standard for all to aspire to.
As Service Officer, John pursued each and every government bill that could affect our veterans and their rights. Johns' greatest attribute was his unselfish devotion and caring for our American Legion members and any veteran in need. His name was synonymous with the great Americans and Legionaries of his time.
Following his death in 1989, Post 62 members unanimously voted to change the Youngtown/Sun City Post 62 name to John J. Morris Post 62, Peoria AZ. Dave Broyles