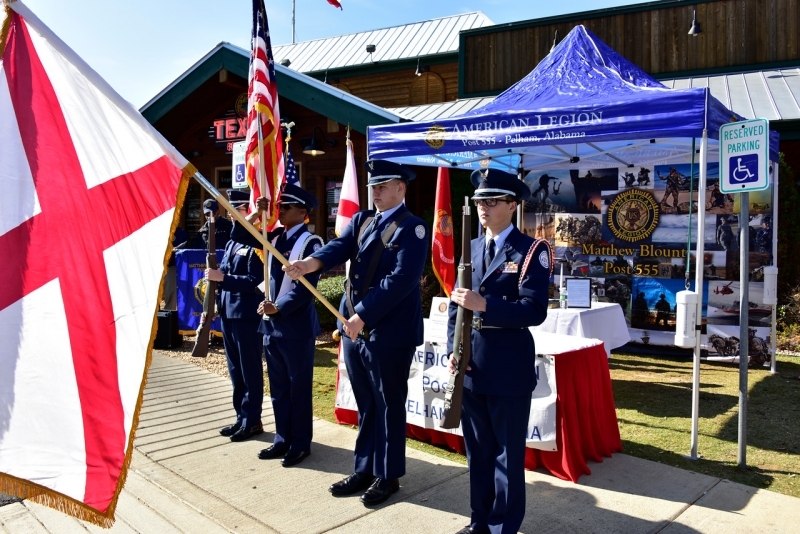 Event Date:                                                    Sunday, November 11, 2018
Time of Event:                                               10:30 am Patriotic Tribute (11:00 am to 4:00 pm)
Event Purpose:         To honor Veterans and active military personnel. Texas Roadhouse in association with The American Legion Matthew Blount Post 555, the Kinion sisters, and Thompson JROTC honor Veterans and active military personnel. 
Event Location:         Texas Roadhouse in Pelham; 60 Drivers Way Pelham, AL
Addition Photos:   https://alpost555.smugmug.com/11-11-2018-Texas-Roadhouse/i-P7dMmz3/A 
Detailed Description of Event:  
Texas Roadhouse manager and Store Marketer invites our Post to conduct a 15-20 opening program (Patriotic tribute to veterans) – see enclose narrative link below. Request the Post set up a "Fallen Heroes' Table" and an informational booth from 10:30 am to 4:00 pm. They also invite us to join them from 11 am to 4 pm to select a free entrée and soft drink/tea from their Veteran Lunch menu.
Event Support Team Gaytan Glover – Moderator (narrative)
1.    Alan Phillips- Invocation and Benediction
2.    Chic Cecchini – Post 555 Photographer
3.    Ron Koonce – Post 555 sound system
4.    Jeff Monday, Will Hayes, Doug McDaniels, Bill Blank, Ron Koonce, and Kenneth Paschal – Set-up team (9:30 am)
5.    Taylor Kinion – Helena Middle School, Layla Kinion and Erin Kinion – Helena High School – Singing of the National Anthem 
6.    Christopher G. Spann, CMSgt, USAF (Ret) – THS Air Force JROTC presenting the colors, manning the front door, and greeting Veterans and military
7.    Kenneth Paschal – Reading of the "Fallen Heroes Table" displayed items
8.    Legion Riders, Reading of "It is the Veteran" poen (Jeff Monday, Will Hayes, and Doug McDaniels)
9.    Cody Monday , Son of American Legion– Bugler for Taps
10.  Jim Billings – Post 555 Public Relations Officer - Press Release
11.  Also, Post 555 members seek an opportunity to sit with Veterans without family members at their tables to provide fellowship while eating their meal.
View more history for Post 555 in Pelham, Alabama 35124, Alabama