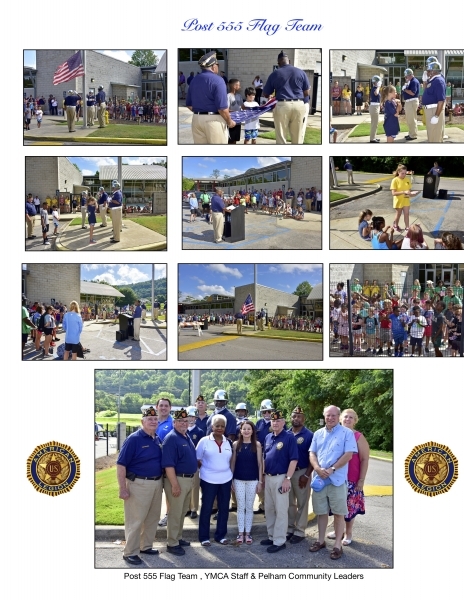 Event Title:  Pelham YMCA Flag Replacement Ceremony
Event Coordinator:  Ron McGriff
Date:  05 Jul 18
Event Purpose:  To formally replace a worn flag and educate the community about flag etiquette.
Event Location:  Pelham YMCA, 2610 Pelham Parkway, Pelham, AL  35124
Post Event Support Team:  Ron McGriff, Jerry McClain, Ron Koonce, Tom McDaniel, Bobby Horsley, Bill Blank, Charles Geter, Kenneth Paschal, Nancy Waller, and Chic Cecchini.  Also, YMCA Summer Campers Hailey Huggins, Zain Hooda, and Javaris Dangerfield.
Event Attendees:  Pelham City Mayor Gary Waters, Pelham City Councilwoman Mildred Lanier, Exchange Club of Shelby County Board Member Brenda Walker, YMCA Staff Representative Jason Beasley, YMCA Maintenance Supervisor Steve Smith (also Post 555 member), and 102 YMCA Summer Campers.
Additional Photos:   https://alpost555.smugmug.com/7-5-2018-YMCA-Flag-Replacement/
Description/Additional Information:
Upon arrival at the Pelham YMCA, an immediate concern was observed with the halyard and cleat being too high, so Steve Smith came out to lower the cleat and put on a new rope.  During this time, the Post members mingled with the YMCA Staff and other guests.
Once the repairs were made, Jerry McClain initiated the rehearsal with Bobby Horsley, Charles Geter, and Nancy Waller.  Ronnie McGriff had Jason Beasley choose three Summer Campers to assist with the Flag Replacement Ceremony, and Nancy Waller chose Hailey Huggins to work with her to carry the new flag to the team and to recover the old flag.  Nancy and Hailey practiced off to the side.  Bill Blank was asked to work with Zain Hooda and Javaris Dangerfield with their part in helping with the folding of the old, worn American flag.
The ceremony started and went very well with the participation of all of the children as they answered questions that were posed by Kenneth Paschal, as well as following the instructions as to the protocol of standing at attention and putting their hands over their hearts at the appropriate times during the ceremony.
View more history for Post 555 in Pelham, Alabama 35124, Alabama