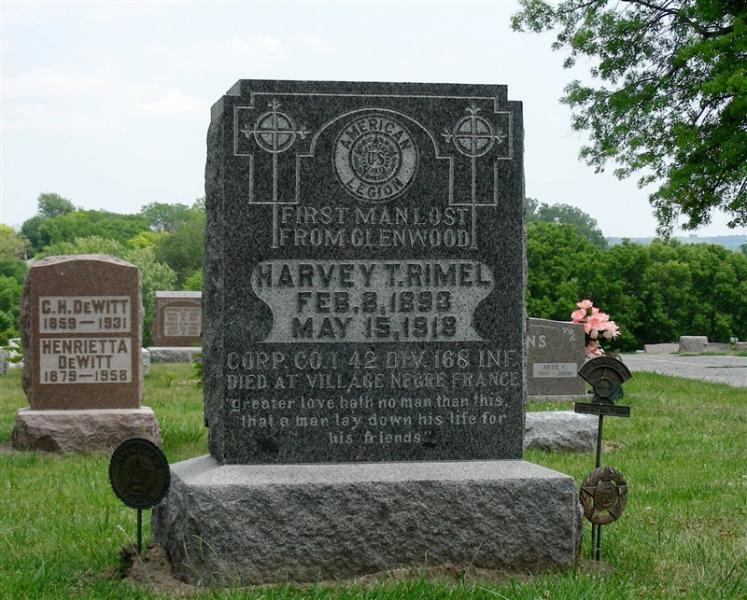 Harvey Tilman Rimel was born near Tabor, IA on February 8, 1893 and moved with his parents to a farm near Glenwood, IA when a mere baby. He met his untimely death while in action on the battlefields of France on May 15, 1918, aged 25 years, 3 months and 7 days. Military Service History On May 20, 1913, Harvey enlisted in Company I at Glenwood, making him one of its charter members. On May 19, 1916, he was honorably discharged, showing an official record of excellent character and faithful service.
After a declaration of war with Germany, he early heard the call of his country and on June 2, 1917, he re-entered his former company as a Private First-Class and sailed from the United States to a foreign land October 14, 1917. Shortly after arrival in France, he was given the rank of Corporal. Thus on the French front, the spirit of a brave young American soldier takes its flight. The remains were laid to rest in an American cemetery beside other fallen American soldiers. Community Hero Harvey was a home loving boy with a large circle of friends not only in his home town and local communities, but he also made friends wherever he went.
At his memorial, a short address was given by Captain R. E. Humphrey, who told of the military service Harvey as a member of Company I and Lieutenant F. D. Logan told of his service in France, showing convincingly that Corporal Rimel was apt in acquiring the new duties that devolve upon soldiers in France. Rev. Edwyn Evans read the obituary of the deceased and followed this by a sermon of great power from the text "No man showeth greater love than this that he died for this friends." The memorial closed with the singing of "The Star Spangled Banner." Besides his parents, Harvey T. Rimel was survived by three sisters and two brothers: Ethel, Nelle, Blanche, Franklin and Frederick.
He was laid to rest in Glenwood Cemetery, Sec 12, Row 2 in the south end.