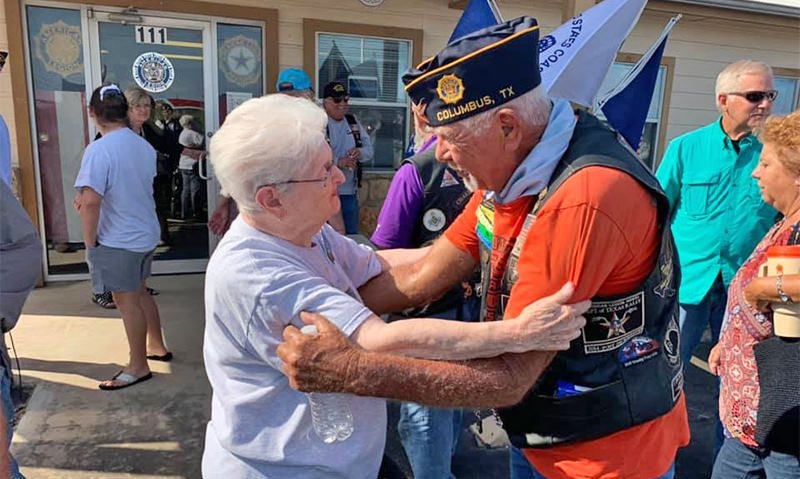 BY:

Jeric Wilhelmsen

Aug 2, 2019
It was a bit of a muggy morning as Team Vision rallied for our briefing just outside of the La Quinta hotel in Pharr, Texas. This was to be our first full day of riding. We started off with 15 bikes and three support vehicles as the local police department escorted us out of town.
Our first semi-stop was at the border control check point. It was easy to go through, as the border agent simply asked each one of us as we rode by, "Are you an American citizen?" He got an enthusiastic, "yes" from everybody.
Our first actual stop was at the Tex Best gas station in Alice, where we re-fueled and realized we were way ahead of schedule. So we lingered around the fuel stop for a while. There was a question as to how long we would stay: 45 minutes or "4 to 5" minutes. It turned out to be the longer. During that time we said our goodbyes to our buddies from Post 101 in Pharr, as they pulled out together and rode back home. Our contingent was now down to 11 bikes, or six bikes, four trikes and one spaceship also known as a Victory. And of course our support vehicles as well.
As we approached the town of Three Rivers the local law enforcement came out to escort us to the post, which was easy to spot. There were Riders, Legionnaires, and Patriot Guard lining the entrance and holding American flags.
It was a bit dusty riding up the dirt driveway, but once we got inside the rustic building made of field stone the air conditioning was a welcome respite. Post Executive Committee member Melvin Melton made some of the best BBQ brisket I've ever had. I had a chat with Post Commander Rosendo Pena Jr., who told me how just a few years ago the post was almost disbanded. But they chose to keep it going, and they made the right choice. Because the entire community came together to make this post a success.
Our next stop was San Antonio Post 72. That's where I met Herb Brooks, one of the Legion's newest Legionnaires. He served in the Army during the gap years. And although he had been a friend of the post for quite some time, he was never able to join, until today – literally today. Thanks to the Legion Act.
And then we were off through downtown San Antonio. For the first time since we started this ride we encountered traffic. Initially I attributed it to rush hour, but it didn't stop. In fact the traffic got worse, way worse. And at one point we came to a stop. In fact we stopped so long that our engines started overheating, and so did we. The group couldn't take it much longer and had to pull off to let our engines and heads cool. We had started ahead of schedule, but we eventually arrived at Blanco Post 352 an hour and a half late. Regardless, a group of loyal Legionnaires stood at the front door of the post to greet us. Better yet, they fed us. It was a delicious meal and a fantastic way to wrap up our day.