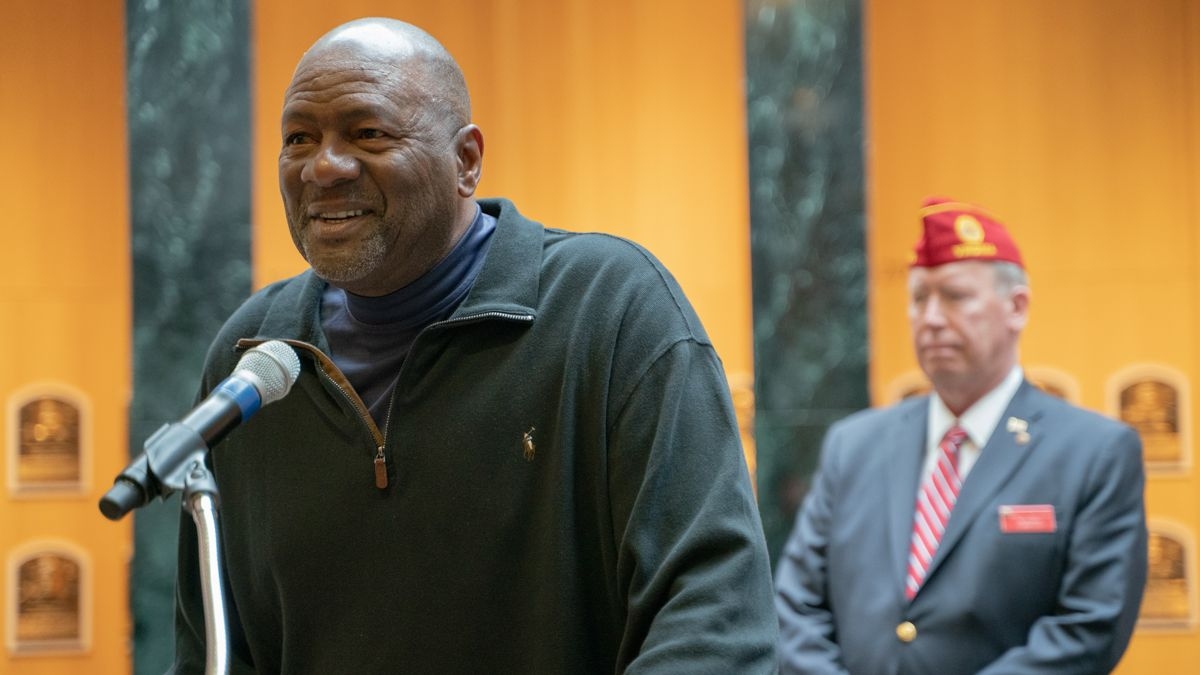 BY:

Jeff Stoffer

Mar 30, 2019
"Back in the day" are words that preface many of Lee Smith's reflections on a baseball life that began in rural Louisiana, was influenced by American Legion coaches and led to an 18-year career in the big leagues where he was one of the most feared relief pitchers in the game's history.
"Back in the day," he explains, he had to finish all his chores before his father would let him go play baseball, which he saw as a welcome break from farm work. It was a time – and still is – when his hometown had no stoplight. Kids like Smith and his teammates came from little farm towns throughout a 100-mile area and assembled in Natchitoches, La., to play American Legion ball on summer afternoons. And following each game, players would pile into a pickup, front and back, and gather at the Cotton Patch diner to meet with family and friends to eat and talk about the game. His American Legion team, he explained, was like family.
He said it was a time when they didn't worry so much about pitch count, defensive shifts or at what point the relief pitcher entered the game, regardless if a save opportunity was on the line, he said.
"Back in the day, you got one trophy, and that was MVP for the team that won it all," Smith explained during a question-and-answer session at the National Baseball Hall of Fame in Cooperstown, N.Y., where The American Legion's centennial was celebrated Friday and Saturday. "You didn't get a trophy for showing up to practice. You got put on the bench if you didn't show up. I learned from American Legion Baseball and my coaches, that you've got to work hard for it. It's not going to be given to you."
Smith remembers discipline, sportsmanship and knowledge of the game among the most important values American Legion Baseball instilled in him. He remains friends with his Legion coach, 87-year-old James Morgan, who plans to join several of Smith's former American Legion Baseball teammates from back in the day for his July induction into the Hall of Fame.
American Legion National Commander Brett P. Reistad attended opening ceremonies of the weekend celebration, which featured an illustrated panel on the history of American Legion Baseball, a Legion information table staffed by New York Legionnaires and a new 8-minute film on the history of the baseball program, produced as part of the organization's centennial celebration.
"As you may be aware, American Legion Baseball started in South Dakota in 1925," Reistad told the crowd in the gallery of plaques honoring the game's greatest names, which in July 2019 will include 81 former Legion players. "It's been a mainstay of American Legion programs for many, many years. There are roughly 3,500 American Legion Baseball teams around the country, and many of those who played American Legion Baseball made their way here, to this coveted location in Cooperstown, N.Y. The American Legion Baseball program does many things for our youth – teaches them sportsmanship, patriotism and teamwork."
Hundreds of American Legion Family members poured into the hall over the weekend for discounted tours, remarks from speakers, a panel discussion and an autograph signing session with Smith.
American Legion Past National Commander David K. Rehbein, chairman of the organization's 100th Anniversary Observance Committee, told the crowd Friday that "this is a special weekend. These are special people."
The first American Legion Baseball alum inducted into the Baseball Hall of Fame was star pitcher Bob Feller in 1962. "I feel a special connection to one of the members of the Hall of Fame, Bob Feller," Rehbein said. "He played about 25 miles from where I live now. As an Iowan – and he being the first American Legion player to come into the Hall of Fame – we're especially proud of that. Bob was more than just a great baseball player. Bob was a veteran. Bob saw the need when his country called, and he went. And, like many of us in this room, he gave up part of his life. But then Bob came back and picked up his life where he left off, like so many of us did."
Feller famously said that he may have been the first American Legion player enshrined in the Hall of Fame but he would not be the last. The 2019 inductees include former Legion players Smith, Roy Halladay, Mike Mussina and Harold Baines.
"It's been really amazing, seeing where I came from, from a town that doesn't have a red light – from a hay field – to playing American Legion Baseball, to the Hall of Fame," said Smith, who today operates a farm in the same area where he grew up when he isn't working as a minor league pitching coach in the San Francisco Giants system.
Smith had 30 or more saves in 11 different seasons and averaged one strikeout per inning of his professional career. He pitched for the Chicago Cubs, Boston Red Sox, St. Louis Cardinals, New York Yankees, Baltimore Orioles, Anaheim Angels, Cincinnati Reds and Montreal Expos. His 478 saves were the most in baseball from 1993 to the 2006 season and still rank third on the all-time list behind Mariano Rivera's 652 and Trevor Hoffman's 601. A seven-time All-Star, Smith led his league in saves four times.
"Just as The American Legion is a part of the fabric of American society, American Legion Baseball is woven into the fabric of our national pastime," said Jon Shestakofsky, vice president of communications and education at the Hall of Fame. "Every year, the Hall of Fame welcomes through its doors thousands of active military members and veterans at discounted and complimentary admission rates. We also welcome countless current and former ballplayers who benefited from the opportunity to play American Legion Baseball.
"They all learned valuable lessons from their experiences playing Legion ball, and many of those former American Legion Baseball players now have plaques hanging on these walls. In this room, which is the most sacred space in baseball, we are surrounded by 329 members of the Hall of Fame, and of those, 81 were shaped by American Legion Baseball – one quarter of the all-time greatest."
The event was coordinated by The American Legion Department of New York, led by Commander Gary Schacher and Department Baseball Committee Chairman Bruce Mayfield.
And the historical significance of The American Legion centennial was not lost on Smith, who is now a part of that history. "You might not hear about it much, but for The American Legion to be here for 100 years is really amazing," Smith said. "It shows what kind of organization is it is, and the people behind the scenes that are running it. You know, 81 guys wouldn't be here as Hall of Famers if it wasn't for those guys. I think it has to do with upbringing, community, family and the military."