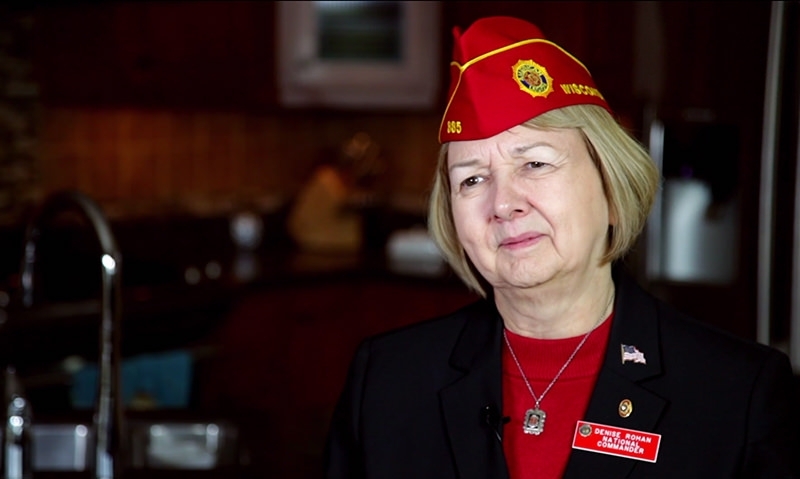 BY:

The American Legion

Aug 27, 2018
As the opening of the 15-month Centennial Celebration window, the 100th American Legion National Convention in Minneapolis at the end of August will cast a bright light on the century of service and accomplishments that the Legion can boast. But even before the curtain goes up on the General Session on Tuesday, Aug. 28, Centennial activities will keep attendees entertained.
The multimedia exhibit "The Greatest Legislation: An American Legion Centennial Salute to the GI Bill" is the main attraction in the Media & Communications Exhibit Hall booth area. The exhibit, which has been traveling the nation, tells the story of the Servicemen's Readjustment Act of 1944, the dramatic fight for its passage, how it transformed the world, and the changes it has undergone in the 21st century. It includes artifacts and video kiosks. Read about the journey of the exhibit, and the conversations it's started, here.
On Saturday, Aug. 25, acclaimed artist Matt Hall held two well-attended signings at the booth, of lithographic prints of the "Legacy & Vision" painting he produced for the Legion's 100th anniversary. The lithographs can be purchased through the Emblem Sales booth area for $29.95.
Another focus is the redesigned and upgraded Centennial Celebration site. Due to be released soon after the convention, the site will serve as a one-stop shop for accessing both the history (legacy) and future (vision) of The American Legion. Media & Communications Division staff will be on hand to answer visitors' questions about the platform, the Legion's Centennial Celebration and more. Also available will be information on the National American Legion Press Association (NALPA) and the opportunity to join. The booth area stretches from #211 to #219, across from the USAA area. The Exhibit Hall will be open Friday, Aug. 24, through Tuesday, Aug. 28, in Hall C, Level 1 of the Minneapolis Convention Center.
The Legion has appeared in bit parts and had top billing in cinematic productions over the past century. In 1938, many major studios produced movies that featured the thriving young organization. A sampling of those movies and more will be featured during the Centennial Film Festival, held Monday, Aug. 27. The festival will be held in Room 102, Sections A&B, Level 1 of the Minneapolis Convention Center. Click here (
https://www.legion.org/convention/242860/five-american-legion-featured-films-be-screened-convention
) to learn more about the scheduled films, including National Commander Denise Rohan's involvement.