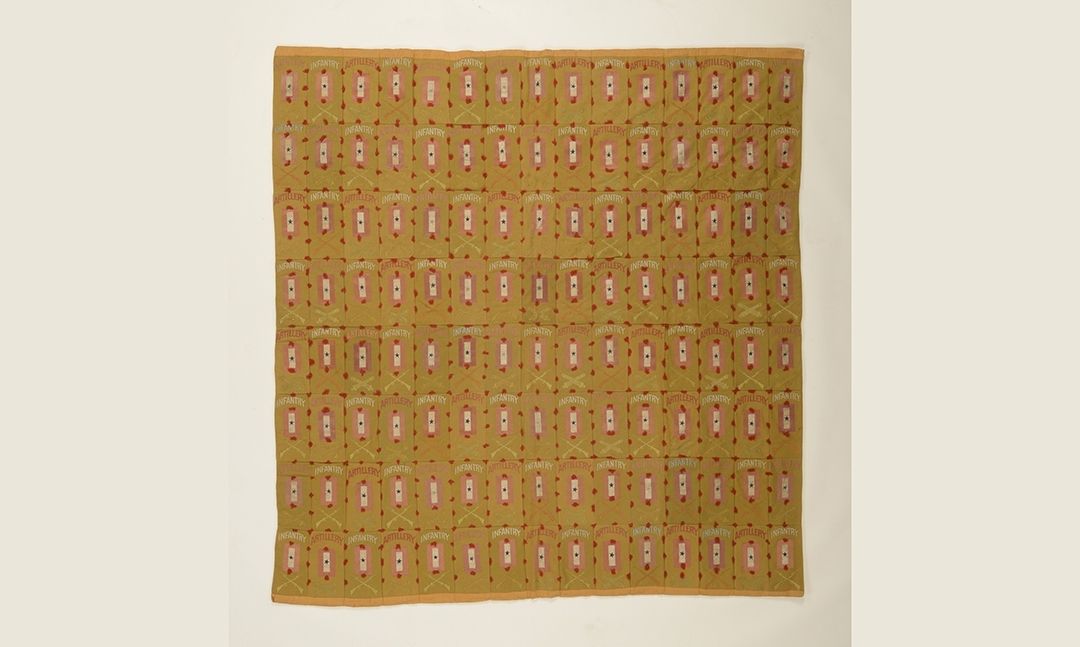 BY:

Laura Edwards

Aug 17, 2018
Sue Reich of Washington Depot, Conn., is president of the board of directors of the Quilts of Valor Foundation (QOVF), which has conducted communal quilt-making events at national American Legion meetings for several years. The completed quilts are then presented at a ceremony to "military touched by war," in the foundation's words.
Reich, a retired nurse, has been touched by war herself – she is the Gold Star Mother of Army Maj. Stephen Reich, who was killed in Afghanistan in 2005. She spoke with The American Legion ahead of bringing a selection of World War I quilts to Minneapolis for display in the Exhibit Hall during the 100th National Convention next week.
What is the relationship between the American Legion Family and Quilts of Valor?
The connection with The American Legion and quilts began with World War I. When the veterans of what was known as "The Great War" came home, they did not speak of the horrors of war. Instead, they told their wives, mothers and sweethearts about the poppy fields in bloom across France and the Low Countries. Women began to make poppy quilts to honor their service. Soon women's auxiliaries of the Legion began making poppy quilts to raise monies for World War I veterans. Quilts of Valor also honors the service of "military touched by war, wrapping them in a quilt." Just as American Legion Auxiliaries expressed gratitude through quilt-making, so does Quilts of Valor.
How long have you been part of the organization? Can you describe your current position?
I have been a part of Quilts of Valor for three years, serving on the foundation's board of directors and currently as president of the board.
When did your interest in quilting start?
I learned to quilt as a child spending summers at my Grandmother Martin's farmhouse in northwestern Pennsylvania. My current participation in quilt-making began after the Bicentennial Celebration in 1976. I am currently a quilt historian, writing nine quilt history books, including books about World War I quilts and World War ll quilts. I am also a Certified AQS Appraiser and NQA Trained Judge.
What differences do you see in historical quilts throughout the country, and what would account for it?
There are vast regional differences in quilt-making across the United States until the beginning of the 20th century. The differences become blurred from that time forward. Travel, communication and nationally published quilt patterns account for this meshing of quilt-making styles.
Historically, what has been the connection between the military and handmade objects like quilts?
Throughout our country's history, women have been supplying our soldiers with quilts. Early on and up to the Civil War, quilts went directly to the battlefront. During World War I and World War ll, quilts were made to honor service and raise funds to directly to benefit the military.
In the presentations you've attended, what has been the most common reaction of recipients? Were you surprised by it?
At QOVF award ceremonies, the humbleness of veterans receiving quilts is the most touching aspect to me. None of them think they deserve a QOV, or they feel that their buddy should receive a quilt first.
How did your son's life and death affect your relationship with quilting and/or the organization?
In 2005 when my son's helicopter crashed, he knew I was researching and writing a book about World War ll quilts. During his deployments, the few times he was able to call he always inquired about my progress and research. Stephen was a World War ll aficionado. He studied the war in Europe. When he was stationed in Germany, he gave his sister and me a tour of Normandy, Sainte-Mère-Église and Pegasus Bridge. Stephen was my best fan.
What would be the easiest way for a Legion Family group to get a Quilts of Valor event (making, presenting or both) in their community?
Contact ann.rehbein@qovf.org or mary.kerr@qovf.org. World War I or World War II quilts are also available for exhibit; contact me at suereich@charter.net.