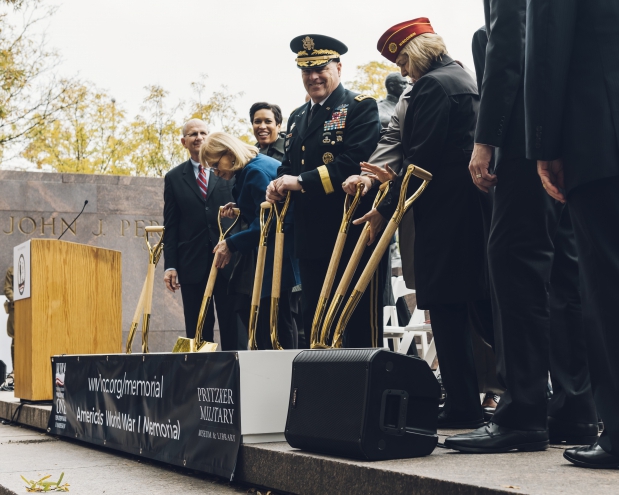 BY:

Matt Grills

Nov 20, 2017
A national World War I memorial in Washington, D.C., is closer than ever to construction, a century after the United States sent hundreds of thousands of troops to fight in Europe.
On Nov. 9, the U.S. World War One Centennial Commission hosted a ceremonial groundbreaking for the project at Pershing Park, a block from the White House on Pennsylvania Avenue. American Legion National Commander Denise H. Rohan joined Secretary of Veterans Affairs David Shulkin, Army Chief of Staff Gen. Mark Milley and other leaders at the event, which centered on the importance of commemorating in the nation's capital the 4.7 million Americans who served in the "war to end all wars."
"They are gone now, but their legacy endures," Rohan said. "We must remember them, and this historic memorial will serve as a perpetual reminder of their sacrifice and heroism."
Rohan presented a check for $300,000 from the national organization toward the memorial's construction, following an earlier donation of $70,000. That's in addition to funds being raised at the local level by American Legion posts, American Legion Riders chapters, Auxiliary units and Sons of The American Legion squadrons.
The memorial could cost up to $40 million and is expected to be completed by Nov. 11, 2018. Fundraising, including sales of a World War I commemorative coin produced by the U.S. Mint, is underway.

West Point cadets escorted program participants to the stage, followed by a presentation of the colors by the Pershing Rifles Group and the playing of the national anthem by the U.S. Army Band "Pershing's Own" Brass Quintet.
Rep. Ted Poe, R-Texas, presented a U.S. flag to Sandra Sinclair Pershing, granddaughter-in-law of Gen. John J. Pershing and adviser to the U.S. World War One Centennial Commission. The flag flew over the Capitol on April 6, 2017, the 100th anniversary of U.S. entry into the war.
Poe recounted his efforts with Rep. Emanuel Cleaver, D-Mo., to pass legislation authorizing construction of a national World War I memorial in the capital, separate from the National World War I Memorial and Museum in Kansas City, Mo. They cited the last living doughboy, Frank Buckles, as their inspiration; Buckles died in 2011.
"It was his desire and hope, as for many others, to have a memorial here in Washington, D.C., to remember those who served in the Great War," Poe said.
Milley declared that of all the lessons of World War I -- strategic, operational, tactical, political, economic -- one stands out: never let it happen again. "The way to prevent war is to maintain your preparedness," he said.
World War I left 39 million people dead, ushered in an even more catastrophic conflict, and is the root of many of the problems of the modern world, including the boundaries of the Middle East, he continued. "The struggles we see today can be directly attributed to the first world war. So it's more than appropriate, 100 years after the end of that war, to begin erection of a monument for the American participation in that war."
Shulkin said he was grateful to attend the groundbreaking, because his grandfathers served in World War I.
"Just last week our historian at VA presented me with my grandfather Joseph Shulkin's draft card, which was terrific to see," he said. "Neither of my grandparents talked to me as a child about their experiences in World War I, but I can tell you they would both be proud that we're here today honoring them. I know how much they loved their country."
Washington, D.C., Mayor Muriel Bowser called the World War I memorial a "vital and long-awaited addition" to the city. She thanked the designers and commission members who have worked on the project, saying they have delivered a memorial "worthy of the memories of these great men and women."
Keynote speakers used presentation shovels to turn dirt from the Meuse-Argonne battlefield in France, site of the largest military battle in U.S. history. More than a million Americans fought in the offensive, and 26,277 were killed.
Joe Weishaar, the project's lead architect, heard about the centennial commission's open design competition while working as an intern in Chicago. Surprised that Washington, D.C., had no national World War I memorial, he put together a proposal called "The Weight of Sacrifice," which won over the jury with its vision of a raised lawn, bas relief sculpture panels, and quotations chronicling the war's horrors and heroism.
However, concerns have been raised about the proposed makeover of Pershing Park, including by its original landscape architect. One criticism is that the park as it stands now -- with a non-functioning water fountain in the center of a pool basin that once doubled as an ice rink -- has been poorly maintained by the National Park Service (NPS). Also, Pershing Park is eligible for listing in the National Register of Historic Places.
Though final design approval has yet to be given, the Commission of Fine Arts, the National Capital Planning Commission, the D.C. Office of Historic Preservation and other bodies have weighed in on Weishaar's design, resulting in some changes. The current plan includes a 65-foot-long, 11-foot-high sculptural wall -- one of the largest in the world -- and reflecting pool with walkways. The memorial will retain a statue of Pershing.

During the groundbreaking, Weishaar called the memorial "one of the most noble undertakings today, and certainly in my own life.
"Rather than design a landmark that is pompous, ostentatious or bombastic, we find ourselves here in a small park on America's Main Street, tasked with the creation of a memorial to a group of men and women who gave themselves in service and sacrifice without the thought of how or why or when they would be remembered."
Weishaar thanked those in attendance for their support, saying he has a stack of letters, cards and notes from families of World War I veterans telling him what this memorial means to them. "It matters not just to me and you, but to the people we represent," he said.

Robert Vogel, regional director of the NPS' National Capital Region, said he looks forward to the completed memorial joining the sacred sites under his agency's care.
"This is really the perfect place for the location of the World War I memorial," Vogel said. "Archival footage of the frenzied celebration in the nation's capital following the armistice on Nov. 11, 1918, shows Washingtonians packed shoulder to shoulder along Pennsylvania Avenue right here in front of the Willard Hotel. Ten months later, Gen. John J. Pershing led the victorious American Expeditionary Force down Pennsylvania Avenue, turning north onto 15th Street right here on its way to a reviewing stand on the north side of the White House.
"I promise you that we will be here every day of every year watching over this place, to keep it and protect it and pass on its story to future generations of Americans."

Edward Hogan is chaplain for the Legion's D.C. department and a member of Department of Labor Post 42. He said he's eager to see World War I veterans given the same recognition as veterans of every other war.
"I think it's the right place for a memorial that's long overdue," said Hogan, a Korean War veteran whose father served in World War I. "Pennsylvania is Main Street for people all over the world, but especially for Americans. This is where our inauguration parades are, and other national events. Pershing Park is the right place to put a World War I memorial."
Alfredo Diaz, vice commander of National Press Club Post 20 in Washington, D.C., is also a fan of the memorial's site. Pershing helped found his post, which is a short walk from the park. "It's a historic location," he said.
John Monahan, the Legion's representative on the U.S. World War One Centennial Commission, said the groundbreaking "is a signal day in the history of the Legion, frankly, and our nation.
"This is a day when we begin to rectify what I perceive as an oversight, if not an outright wrong. We're about to embark on the final phase of making a fitting and suitable memorial to the service and sacrifice of the doughboys and bluejackets of World War I, and to the generation that gave us the legacy of our beloved American Legion."